Play Ball Sports Academy is proud to announce that we are now offering an exclusive, unique product for baseball and softball players.  3M is known worldwide as the leader in innovation of new products.  Specifically, 3M is known for their wide range of tapes and adhesive products.  We have discovered a product that you will not find anywhere else that will enhance the performa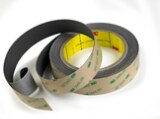 nce of your baseball or softball player.  3M gripping material is used for a wide range of applications from industrial to sports and works in wet or dry conditions. 
Increase Performance
Get a grip, increase your batting performance.  In a study with NCAA  Division II varsity baseball players, bat speed increased 4.4% for players using batting gloves with the 3M gripping material compared to leather gloves, which translated into hitting the ball 16.6 feet farther. 
Learn more and order online.